Electric Facial Hair Remover Shaver (chargeable) in Pakistan | PakBeautyShop
EFFORTLESS and INSTANT]: The horizontal cutting head with two rotating blades extends the contact area for immediate and thorough trimming of unwanted hair on fingers, cheeks, chin, upper lip and arms. Girls, get ready to look incredible! Say goodbye to painful wax and quickly get your bikini zone into shape for fun in the sun.
[Safe and Painless ] The cutting head ADApts to the contours of your body to gently glide over the skin to trim the hair without pulling for a smooth complexion without stubble, nicks or redness. Rounded low-friction protective heads prevent skin damage.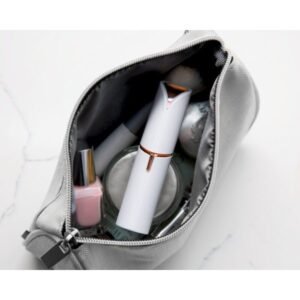 [USB POWERed]:Facial hair trimmer with USB inTERFace eliminates the hassle of frequent battery replacement, charge it via a POWER bank, wall charger, car chargers or other USB chargers; also support charging during use.
Perfect combination and easy cleaning: Package includes 1 x facial hair remover, 2 x replacement heads, 1 x user manual (English language not ), 1 x small brush, 1 x flannel bag, 1 x USB charging cable. Use the brush in the kit too quickly and easily remove hair. IPX6 waterproof and removable blade head can be cleaned under running water, making cleaning a breeze.

[Slim and Portable]:The stylish lipstick design fits comfortably in your hand, put it in your beauty kit, bag or handbag to stay lint free on holiday or all day. You will love the amazing skin care and beauty results you have with gurelax hair remover.